Konaseema Thugs Movie Review– Brinda, a renowned choreographer, has surprised audiences with her latest directorial venture, Konaseema Thugs. The film, which is an action thriller, has generated a lot of buzz thanks to its impressive teaser and trailer. In this review, we take a closer look at the movie and evaluate its strengths and weaknesses.
Konaseema Thugs Review & Ratings
| | |
| --- | --- |
| Starring | Hridhu Haroon, Bobby Simha, Munishkanth, RK Suresh, Anaswara Rajan, Sarath Appani, PL Thenappan |
| Director | Brinda |
| Producers | Riya Shibu and Mumthas M |
| Music Director | Sam CS |
| Cinematography | Priyesh Gurusamy |
| Release Date | February 24, 2023 |
| Thugs Official Telugu Trailer | Trailer View |
The story follows Seshu (Hridhu Haroon), who finds himself in jail in the Kakinada district due to unforeseen circumstances. He meets Dhora (Bobby Simha) and Madhu (Munishkanth) in jail and decides to escape with their help. The movie delves into their backstories, their challenges, and whether they succeed in their escape plan.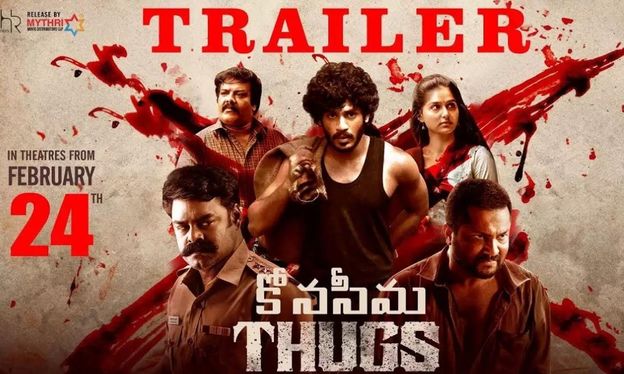 Konaseema Thugs Review: A Decent Watch for Crime Thriller Fans
One of the film's major strengths is Brinda's direction. She displays her versatility as a director and impresses with her work on Konaseema Thugs. The screenplay is another highlight, despite being predictable at times. Hridhu Haroon delivers a noteworthy performance as the lead, with Bobby Simha providing excellent support. Munishkanth, known for his comic timing, provides much-needed relief in this serious action thriller.
konaseema movie download Online
The action sequences are realistic and intense, while the camera work and background score add to the film's intrigue. However, the plot is reminiscent of other prison escape movies and is somewhat predictable. The female lead, played by Anaswara Rajan, does not have a significant role, and the second half is less engaging than the first.
On the technical front, Brinda's direction, Priyesh Guruswamy's cinematography, and Sam CS's background score stand out. The stunt masters deserve praise for their intense action scenes, while the production values are satisfactory. The art department and costume designers also deserve recognition for their work.
Overall, Konaseema Thugs is a decent watch for fans of crime thrillers. The film's strengths include the performances by the lead actors, technicalities, and realistic action sequences. However, it may not appeal to everyone due to its predictable plot and lack of emotional depth.
Read More